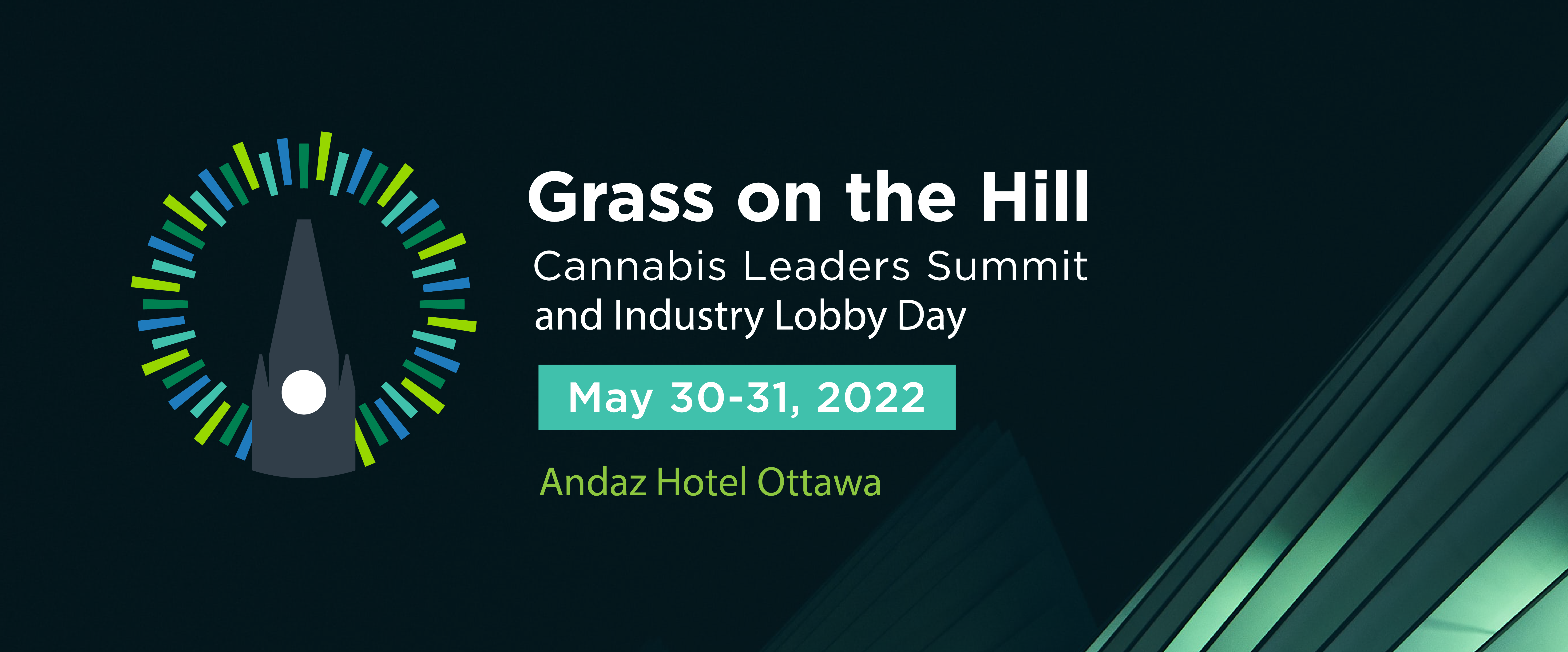 Advocacy, Action and Influence
Join us in Ottawa!
Grass on the Hill: Cannabis Leaders Summit & Industry Lobby Day
May 30-31, 2022 • Andaz Byward Market, Ottawa, ON
This event is bringing leaders from across Canada's cannabis industry to Ottawa to address the challenges facing licensed producers and processors. In the lead up to the Statutory Review of the Cannabis Act, Grass on the Hill is a two day event designed to inform, provoke and drive changes in support of the financial viability of cannabis license holders.
Day 1 - Leadership Conference (May 30)
7:00-9:00 | Registration, coffee & networking
9:00 -10:00 | Setting the Stage
Opening remarks from Rick Savone, Chair Cannabis Council of Canada, Don Davies, MP (NDP) Cannabis Caucus Chair, Nathaniel Erskine – Smith, MP (Lib) Cannabis Caucus Chair, Scott Reid, MP (PC) Cannabis Caucus Chair, George Smitherman, CEO Cannabis Council of Canada
10:00-10:45 | Exclusive Presentation: Public Opinion on Cannabis and C3's Five Big Asks
David Coletto, Abacus Data. Exclusive presentation on Canadians' attitudes towards cannabis and C3's "5 Big Asks" for the Statutory Review of the Cannabis Act and immediate regulatory reform.
10:45-11:00 | Coffee break
11:00-12:00 | Exclusive Presentation: Economic Analysis of Cannabis Excise Duties and Regulatory Costs with Ernst & Young
Rami El-Cheikh, Partner and Americas Cannabis Centre of Excellence Leader
Fred O'Riordan, National Leader, Tax Policy
Presenting the results of an economic analysis of the cannabis value chain commissioned by C3, focused on the overall impact and impetus for revising the Excise Tax on cannabis products.
12:00-1:15 | Working Lunch, Andaz Hotel
1:15-2:45 | Deep Dive – Framing The Need For Change – C3's "5 Big Asks"
Collaborative session with C3's George Smitherman and Pierre Killeen, presenting C3's emerging "5 Big Asks" and engaging conference participants in their further development.
2:45-3:00 | Coffee break
3:00-4:00 | Creating Issue Alignment - Presenting Advocates And Allies
Trina Fraser, one of Canada's leading cannabis lawyers will moderate the panel with invited guests including Jennawae McLean (NORML), Deepak Anand (Materia Ventures), Nathan Mison (Diplomat Consulting), Annamaria Enenajor (Cannabis Amnesty.) A panel of cannabis advocates will address key policy issues and highlight potential alignments with licensed producers and processors and the "5 Big Asks".
4:00-4:30 | Diversity and Inclusion – Hon. Ahmed Hussen, Minister of Housing and Diversity and Inclusion
Minister Hussen is the Government of Canada Minister with responsibility for the promotion of diversity and inclusion as a key social and economic strategy. The session will include a feature presentation of a Cannabis Amnesty commercial (short version) and remarks from Minister Hussen.
Closing Session: Prepping for Tomorrow
C3's George Smitherman and Pierre Killeen will provide a run through of the final materials and messaging for Lobby Day. Jacquie Menezes will provide a detailed briefing on Lobby Day responsibilities and key events.

Day 2 - Lobby Day (May 31)

8:00-9:00 | Cannabis Amnesty Breakfast
Annamaria Enenajor, Cannabis Amnesty Founder and Executive Director, will provide an update on efforts to drive amnesty for those Canadians with criminal charges for cannabis possession as well highlight their work on greater social and economic inclusion.
Parliament Hill Meetings
Cannabis sector leaders will fan out across the Parliamentary precinct to meet Members of Parliament, departmental officials, ministerial staff and Ottawa influencers.
5:30-7:30 | Lobby Day Reception, Andaz Hotel
Industry reception with MPs and other invited guests. The reception will feature brief remarks from C3's Cannabis Caucus Co-Chairs and industry representatives.
Register Now
Did you visit us at Lift Expo? Use code LIFT2022 for 10% off your registration fees.
Accommodations
Attending from outside Ottawa? The Andaz Byward Market is offering a special rate to Grass on the Hill attendees. Book via this link to secure your discount.